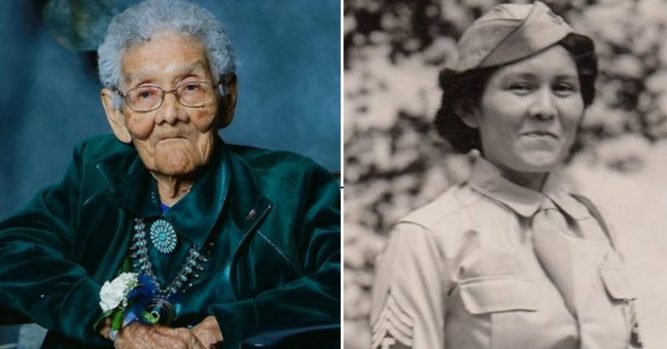 It was only two years after the Titanic had sunk that Sophie Yazzie was born in Canyon de Chelly, Arizona. During her lifetime, which lasted 105 years, she has seen more than most people will see. Perhaps one of the most interesting of her accomplishments was being the longest living female WWII veteran but she is also a member of the Navajo Nation. Sophie joined the US Army Air Corps when she was only 28 years old. She is also a mother of four children, five grandchildren, and five great-great-grandchildren. The president of Navajo Nation, Jonathan Dez said that Sophie was the matriarch of her family and a "warrior for our Navajo people who served our country with great honor and dignity."
Wanda Wright, the director of The Department of Veteran Service also released a statement on Facebook, saying: "We are saddened to hear of the passing of Sophie Yazzie. Sophie, a WWII veteran died today at the age of 105 surrounded by her family. A Navajo veteran, she was born and raised in Canyon de Chelly and served in the Women's Army Air Corps." She met Sophie personally and was thrilled to learn more about the woman.
After being honorably discharged from the US Army Air Corps, she became a cook at Wingate Boarding School and stayed that job until she retired. She was the longest living veteran in Arizona when she died. Navajo Nation members reported on her when she was 102, saying that her presence among the Navajo people was a "prayer and a blessing." The governor of Arizona also reached out on social media saying he was saddened to learn that she had died.
Saddened to learn of the passing of Sophie Yazzie, a World War II Veteran and member of the Navajo Nation. At the age of 105, Sophie was one of the longest living female WWII veterans. Arizona is forever grateful for her service. Our prayers are with her loved ones. #RIP pic.twitter.com/oxsIVgdowT

— Doug Ducey (@dougducey) January 26, 2020
Sophie was in Tucson when she died and was with her family members. You can learn something about the Navajo code talkers in the video below, an interesting piece of American history.