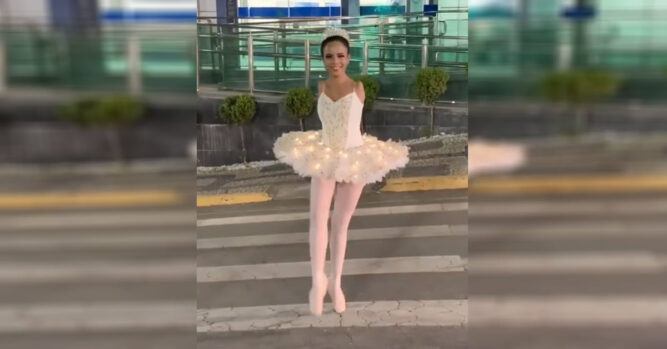 If there is one thing that all of us need in life, it is inspiration. We often feel as if we are held back in some way or another, often as a result of our own flawed perception of ourselves. When we start to look around for something to pick us up, we often focus on those who are less fortunate in some way or another, yet were able to overcome great odds to do something spectacular. That is surely how you will feel when you see 16-year-old Vitória Buono Boche. This young girl from Brazil has overcome the odds and accomplished something great in life.
Vitoria is a ballerina and is well known for her abilities. Not only does she perform with the Academia Ândrea Falsarella in Santa Rita do Sapucaí, but she also has an Instagram account under the name, Vih Bueno. Her popularity comes as a result of her skills in the dance studio and the fact that she is missing both of her arms. Although that is the case, she doesn't stand out when dancing with the rest of the troupe. In fact, her abilities as a ballerina are well known and she is an athlete from head to toe.
This young girl is more than a performer, she always has a smile on her face. The fact that she does not have arms has not slowed her down one bit and her inspiring routines on Instagram have nabbed her an audience of over 114,000 fans.
The next time you are short on inspiration, you can look to Vitória Buono Boche. She is more than a talented ballerina, she is someone who shows us just how far we can go in life.