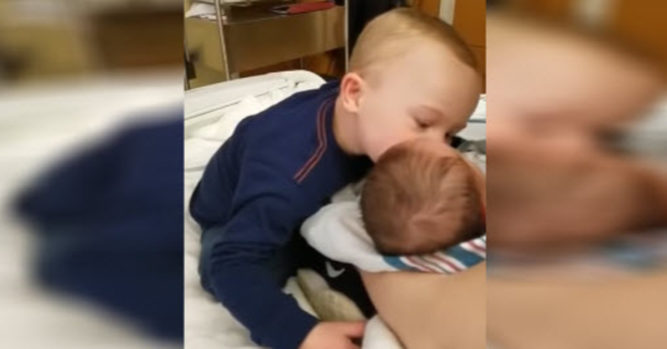 If you have ever had the opportunity to introduce a young child to their baby brother or sister, you realize how touching of an event it can be. It just seems as if there is always a natural attraction between the two and it's quite adorable to watch them admiring each other. Sometimes, we can get so caught up in the moment that we find tears rolling down our face because there is nothing like that special meeting and it only happens one time.
That is why it is so important to make sure that you are prepared to capture the moment so you can enjoy it over and over again. Fortunately, a little boy named Kent was captured on video and his mother had the forethought to record the moment in which he met Noah, his baby brother. When you see it, it is going to melt your heart in the best way possible.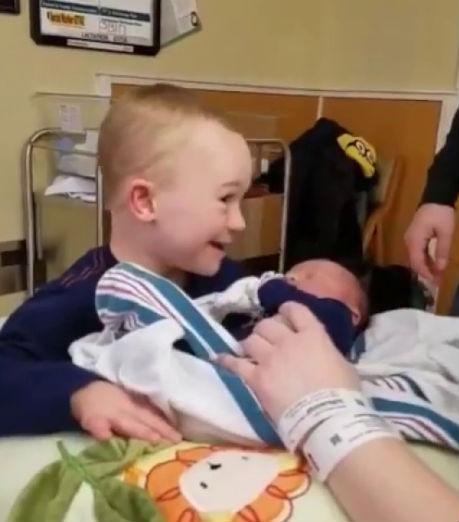 Kent, who is four years old was brought to the hospital to meet his baby brother. You can tell that he is very excited to be introduced. He was probably wondering why his mother's stomach was getting so big and now that the baby was here, he has his answer.
When you see the beginning of the video, pay attention to Kent, who is running down the hallway with gifts for his little brother. He even has a 'big brother' shirt on and you can tell that he is happy and excited for the introduction.
Dad takes him up to the bed so he can see his little brother and when he does, his face lights up brightly. Mom even holds baby brother out so he can get a closer look. He pauses for a moment, leans in and gives his little brother a kiss. It's a perfect moment if I ever I've seen one.
Kent is even able to hold the baby at that point and he claps his hands with excitement when he thinks about the possibility. He looks up at his parents with a smile and then gives his little brother another kiss.
It's easy to see that Kent is excited about holding his baby brother. That is when Noah sticks out his foot and Kent looks at it and touches it. At that point, the video comes to an end when he pats his baby brother on the head.
The grandmother uploaded the video to YouTube with the inscription: "In March of 2017 We welcomed our Sweet Noah. My Grandson Kent, who is 4 yrs. Old and also has Down Syndrome, had been waiting so long for this moment, so excited to meet his Little Brother.
Kent is going to be the best big brother. He is the most loving boy in the world. He loves everyone. Whenever he enters or leaves a room, he has to hug everyone in it. "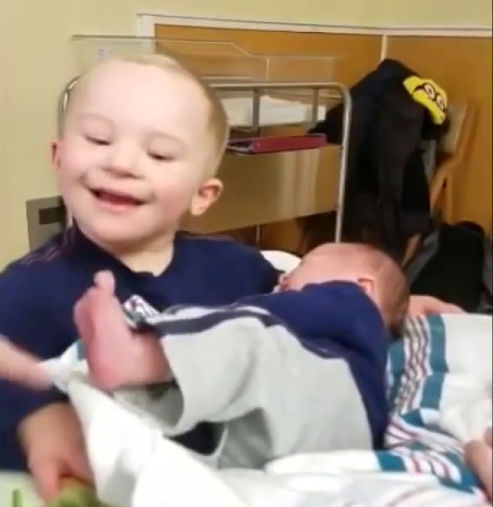 "Although Kent is pretty much still nonverbal, he is trying and knows a little sign language, He is very smart and understands so much it blows me away. I can't wait to see the bond my Beautiful Grandsons develop. I'm sure they will truly be best friends. Kent's reaction to seeing his little brother for the first time is one of the most beautiful things I've seen in my entire life… just priceless. True Love. " Kent's grandmother continues.
"This, I'm certain, is just the beginning of the lives and hearts he will touch with love and kindness throughout his life. God has truly sent an angel to us all. We now have 2 Angels. Noah & Kent. "
You can see the adorable video right here: