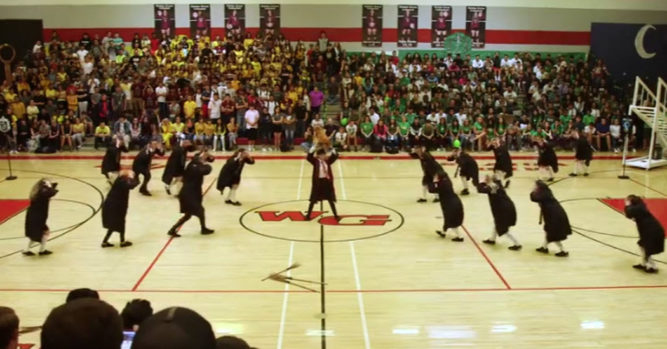 It doesn't matter if you are a fan of Harry Potter or not, there are times when something is themed after the movie and it turns out to be awesome. That is certainly going to be your experience when you see the video of what took place at this high school. It was during a homecoming assembly when the high school dance team marched out onto the floor and put on a Harry Potter performance that absolutely blew everyone away. Since it was posted online, it has gone viral.
It took place in Sahuarita, Arizona at the Walden Grove High School. It was a Harry Potter themed dance extravaganza and the school was privileged to be able to see it. The school is actually known worldwide because of the academics but the Advanced Dance Team also helps in that regard. They put on some of the most impressive routines that you will see from a high school team.
Last year, they took on the Internet with a viral video. It was themed after the Wizard of Oz and it was posted to YouTube by their coach, Kristi Lopez. That really set the bar and since that time, they have had the opportunity to dance on America's Got Talent and to post other viral videos as well.
Fortunately, they decided to outdo themselves when it came to the pep rally for homecoming this year. The dance itself was themed after Harry Potter and if you are a fan of either the books or the movies, you will appreciate what it has to offer. It tells the story through the choreography and the fight sequences are nothing short of awesome.
If you're ready to see one of the best high school dance team performances available, this video is going to provide it in great measure: